With temperatures nationwide regularly reaching into the 80s, 90s, and 100s, there's only one conclusion I can confidently draw: summer is here and in full swing!  Here in the good ol' Lilac City, we're deep in the heart of the hottest season of them all and loving it.  With cloudless skies as far as the eye can see, multiple lakes less than an hour away, tons of great biking and hiking trails, and some of the best breweries around within the city limits, what's not to love?
This weekend, I was lucky enough to enjoy what I think was the epitome of a Spokane summer experience.  Once again joined by Amy from Amy's Nutritarian Kitchen, I headed up to Spokane's South Perry neighborhood to take part in the newly expanded Lantern Tap House to take part in their monthly bike pub crawl, though this time around, it was really more of a brewery crawl (or ride).  With about a dozen other intrepid beer lovers, we set off from the tavern in the afternoon sun and headed to our first destination: Spokane's celebrated No-Li Brewhouse.  Located on a particularly serene stretch of the Spokane River, the wide-open patio of the brewhouse has lounge chairs right on the river bank, as well as a fire pit and picnic tables galore for the enjoyment of sun-loving patrons.  Our ride leader, Mike, ordered up a few pitchers of No-Li's Summer Wheat for everyone to sip on while we chatted and worked on our tans.  After an hour at No-Li, we steadily mozied on to our next destination.
Just a stone's throw from No-Li is Iron Goat Brewing Company, which celebrated its first anniversary just last month.  Once again, everyone grabbed a pint glass, filled it up with the beer of his/her choosing, and scurried to the patio to relax and chit-chat.  Our relaxation efforts were aided all the more by the sudden appearances of an ice cream truck and the Shameless Sausages cart.  After refueling, we summoned our strength for our final destination Budge Brothers Brewing Company, which resided only a few blocks away.  Those who weren't yet acquainted became so, and we each enjoyed one final, locally brewed pint before heading back up the hill to our starting destination.
By the end of the day, our adventure earned its title of "crawl"; the whole voyage took nearly six hours to travel a distance of only a couple of miles.  Nonetheless, it was a great way to spend a leisurely Saturday afternoon: the beer was terrific, the ride nice 'n easy, and the company amiable as could be.  Lucky for me, and maybe you, too, the Lantern Tap House hosts bicycle pub crawls each month, most with five destinations rather than three.  If you're looking to ride from a different destination or on a different route, or if you're still on the lookout for your ideal outdoor beer hangout, there are options to be had here in Spokane.  I encourage you to check each of them out so as to find the one that's best for you!  Cheers, and ride safely!
Bike Rides Around Spokane
Lantern Tap House Pub Bike Ride – Groups ride from the tap house on South Perry to 3-5 downtown or South Hill pubs.  Rides occur approximately once each month.  Check Lantern Tap House's Facebook page to find out about upcoming rides.  Note: If running is more your style, there's also a Lantern Running Club.  They'll be meeting tomorrow (Tuesday, July 16) at 6pm at the tavern to run, and the run will be followed by $2.50 pint night!  Haven't you heard that beer is a great post-workout drink?
Two Wheel Transit Recyclers at Manito Tap House – The Two Wheel Transit Recyclers meet at Manito Tap House on Thursday evenings at 6:15pm to go for a 60-90 minute ride around the South Hill before meeting back at the tap house for drinks and snacks.  Manito Tap House has a great little bike maintenance station right in front of the restaurant in case you need to make any last minute adjustments to your ride.
Elk Drug Drop-Outs Vintage & Cruiser Bicycle Club – The Elk's bike club meets at the pub at 3pm on the first Sunday each month.  They ride from the Elk, in Brown's Addition, to No-Li Brewhouse, located near Gonzaga University, and back.  The ride is family-friendly, and anyone and everyone is invited to ride whatever they've got!  The next ride should be on Sunday, August 3rd.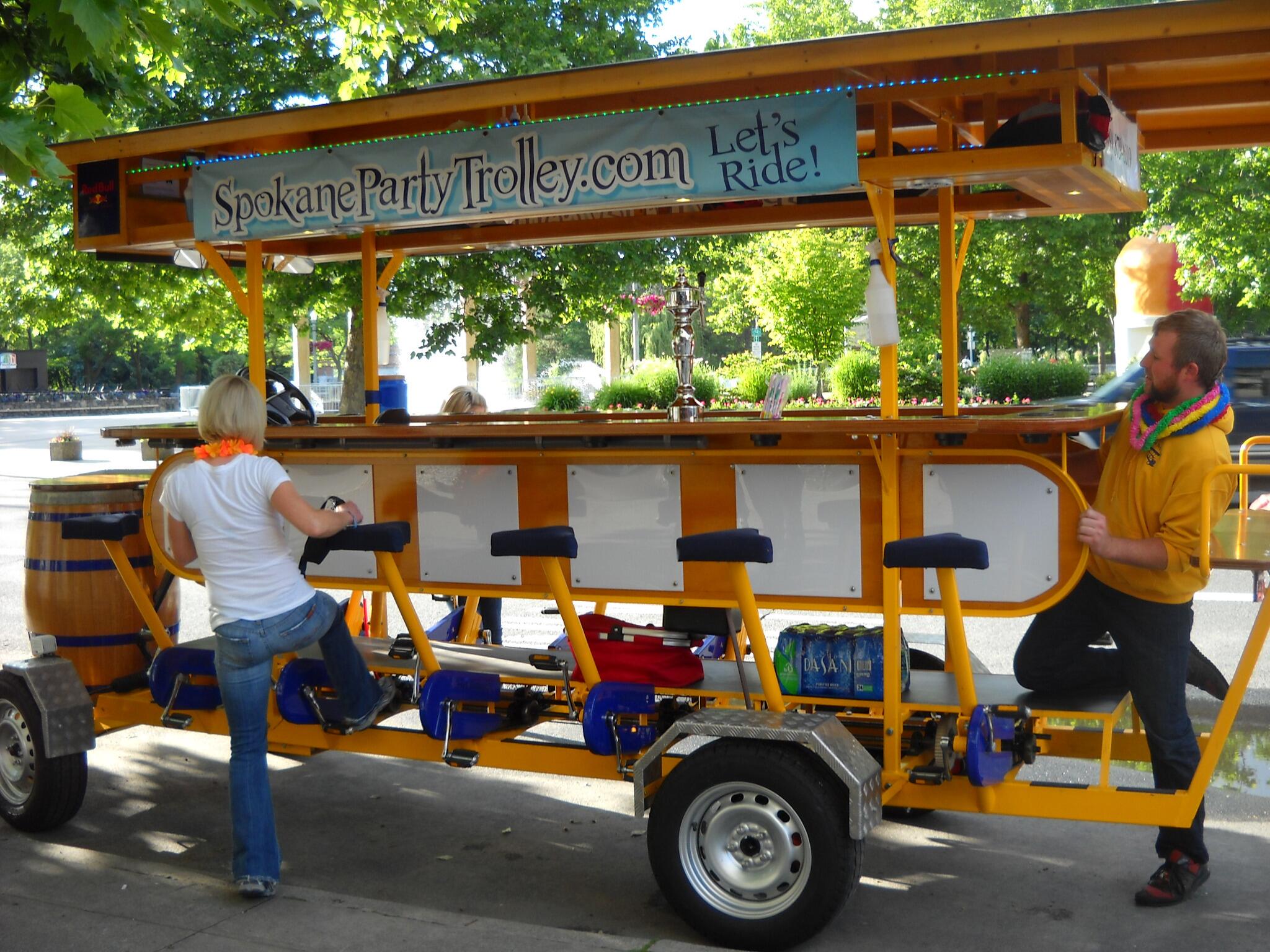 Spokane Party Trolley – OK, so this isn't a bike club per se; it's more of a club on a bike.  A really big bike.  Like, a big bike that you can ride with a dozen or more friends at once.  It's crazy fun.  I was lucky enough to get to take a spin on the party trolley for a pub crawl a couple of weeks ago, though the trolley can also be rented for bachelor/bachelorrette parties, family reunions, team building, you name it.  If you're looking to try it just to try it, the party trolley also hosts Mixer Tours, 2-hour pub crawls that peddle to 3-4 pubs in downtown Spokane.
For information about other Spokane bike clubs, check out the F&*%ing Bike Club's website.
Thanks to the Lantern Tap House for leading such an excellent bike ride.  Thank you to both Amy from Amy's Nutritarian Kitchen and the Lantern Tap House for the photographs.